Team Members - Cardiology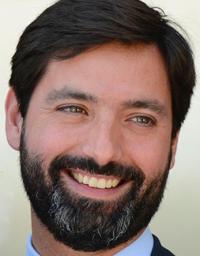 Joao Orvalho, DVM, DACVIM (Cardiology)
Dr. Joao Orvalho, a native of Portugal, is a graduate of the Faculty of Veterinary Medicine in Lisbon. He completed a small animal internship at The Ohio State University and his residency in veterinary cardiology at UC Davis. After completing his residency in 2007, Dr. Orvalho became the School's first veterinary cardiologist based at the UC Veterinary Medical Center - San Diego. Dr. Orvalho applies non-invasive techniques such as echocardiography, electrocardiography and cardiac angiography to diagnose diseases of the heart. He is also interested in interventional cardiology, including pacemaker implementation, balloon valvuloplasty and patent ductus arteriosus occlusion. Dr. Orvalho's research focuses on pulmonary hypertension as well as interventional and medical therapies for heart disease.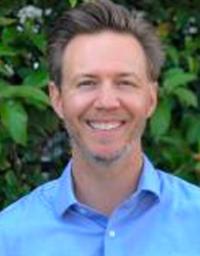 Timothy Hodge, DVM, DACVIM (Cardiology)
Dr. Timothy Hodge earned his DVM in 2007 from Purdue University. He then completed a rotating small animal medicine and surgery internship at the Animal Medical Center of New York, followed by a cardiovascular research fellowship in Columbus, Ohio. He continued his training with a residency at North Carolina State University and passed his specialty certification examination in 2013 to become a Diplomate of the American College of Veterinary Internal Medicine (Cardiology). Following his residency and board certification, Dr. Hodge relocated to Phoenix, Arizona, where he worked as a clinical cardiologist at a busy small animal specialty practice.  His expertise lies in diagnosing and treating cardiomyopathy, valvular disease, arrhythmias, and repairing congenital defects in small and large animals. Dr. Hodge has particular interests in arrhythmia management, minimally invasive interventional procedures, and myocardial diseases.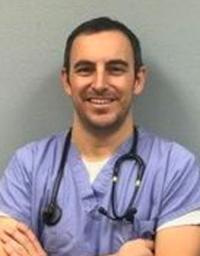 Aaron Inserra, CVT, RVT
Aaron did undergraduate studies in wildlife science at the University of Washington where he completed projects in environmental enrichment and infant primate cognitive behaviors. He finished his veterinary technology degree at Eastern Florida State College in 2009. Aaron went on to complete an internship in animal behavior and applied avian medicine at the National Aviary in Pittsburgh. Since that time, he has worked exclusively in specialty medicine, including emergency and critical care and internal medicine. Aaron is currently pursuing his cardiology Veterinary Technician Specialty credential. His medical interests include: cardiac ultrasonography, pulmonary arterial hypertension and Holter monitor interpretation.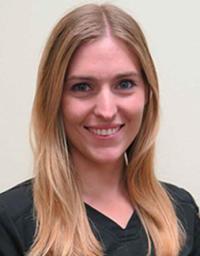 Jenna Ingle, RVT
Jenna graduated from the Animal Heath Technology program at Mesa College in May of 2018. Her internship experience includes small animals at a general practice and exotics at the San Diego Safari Park. She joined UCVMC-SD in June of 2018. She obtained her Registered Veterinary Technician license in September of 2018. Jenna's interest in veterinary medicine include cardiology, anesthesiology and large animal medicine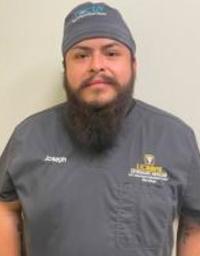 Joseph Castro, Animal Health Technician
Joseph has been working in the veterinary field since June of 2011 where he worked at an afterhours ER in Orange County. Two years into the field, he decided to further advance his skills and knowledge by working in specialty medicine at various specialty practices in California including practices in San Francisco, Berkeley, Irvine, Mission Viejo, and San Diego. He has worked in Emergency and Critical Care, Surgery, and now Cardiology. Joseph is currently pursuing his RVT license and perhaps attend veterinary school in the future. His medical interests are cardiovascular surgeries/procedures and ECG Interpretation.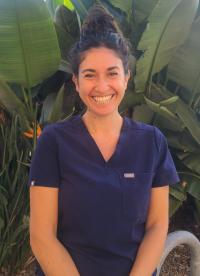 Genevieve Rojas, RVT
Genevieve studied Communications at California State University of Fullerton prior to following her passion in the veterinary field. After a volunteer role at Lake Tahoe Wildlife Care in South Lake Tahoe, she moved back to southern California where she graduated with an Associates in Applied Science in Veterinary Technology and become a Registered Veterinary Technician in 2019. After two years in general practice and three years in emergency and critical care, Genevieve brings her fear-free tactics and interest in critical care to UCVMC-SD.