UCVMC-SD Launches Teleconsultation Service
Our valued referring veterinary partners,
The University of California Veterinary Medical Center – San Diego (UCVMC-SD) is expanding its telehealth experience to provide teleconsultations in nephrology, urology, and pre-referral for extracorporeal therapies.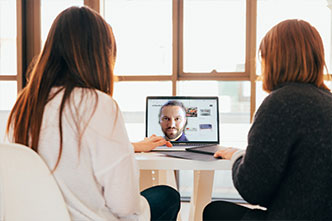 In our current environment associated with the COVID-19 pandemic, the UCVMC-SD is under mandated limitations of its traditional referral services. However, we hope to affirm our valued relationship and avail our expertise to facilitate the management of patients traditionally referred for further evaluation and specialty care. To this goal, we are offering "virtual referral" of patients for consultations in nephrology, urology, and those requiring extracorporeal therapies (hemodialysis, toxin/drug elimination, and therapeutic apheresis) through teleconsultation.  
UC Davis and the UCVMC-SD were early adopters of the vision for telehealth and have extensive experience delivering both telehealth and telemedicine within our programs for the past 20 years (via Teledialysis™, Telenutrition™, the Hemodialysis Academy, and International Renal Replacement Rounds). Consequently, we have the infrastructure and expertise to extend these experiences to virtual consultative services during this time of limited operations.
Typically, teleconsults are conducted by videoconference using the GoToMeeting videoconferencing platform, although they can be conducted by telephone. Videoconferencing provides opportunities to share real-time assessments of the patient (physical examination, guided imaging, real-time procedural observation), a more bidirectional interaction, and an archivable recording of the consult for your medial record. A teleconference cannot substitute for all the necessary assessments or expertise as a traditional referral, but we hope it will provide sufficient direction for the ongoing management of the patient within the available resources. If additional diagnostics or specialized care are considered urgent or emergent, arrangements can be made for a traditional referral subsequent to the teleconsult. For teleconsults resulting in a traditional referral for specialized diagnostics or treatment (e.g., uroendoscopy, hemodialysis), our examination fee for the "physical" referral in our clinic would be waived.      
To learn more about our teleconsultation services or to schedule a teleconsult with Dr. Sheri Ross or Dr. Cedric Dufayet, please call 858-875-7505.
There is a $200 fee for a 30-minute consult obtained at the time the appointment is scheduled.  Once the appointment is established, details how to participate in the consult and a listing of the necessary clinical information required prior to the consult will be provided. Teleconsults are conducted over the internet (or by telephone), and there is no requirement to purchase additional software. The GoToMeeting connection will install all necessary applications. Voice communications can be established by telephone, but a computer-based microphone and web camera are often preferable. It really takes only a minute or two of orientation/configuration to establish an effective, efficient, and productive consultation.
 
We hope these virtual opportunities will be valuable to your management of those difficult urinary diseases during this indefinite time of limited professional services and societal interactions.